Peninsula Valdes is a Protected Natural Area located in Patagonia, Argentina. It is of extreme significance for the conservation of the environment and fauna.
In the following article, you will find out 10 interesting facts and curiosities about this Protected Natural Area!
# 1 – Protected Natural Area
Peninsula Valdés is a Protected Natural Area. It is one of the most visited places in Patagonia due its global significance for the conservation of marine fauna. A lot of the animals that live there are in danger of extinction. That is why you need to pay an entrance fee to visit this Protected Area.
# 2 – Variety of Marine Wildlife
Peninsula Valdes and Puerto Madryn are one of the most visited destinations in Patagonia due to the wide sealife species who live there. In the beaches, bay and cliffs you can find penguins, whales, orcas, sea lions, elephants seals, dolphins and hundreds of migratory shorebirds.
# 3 – UNESCO World Heritage Site
Peninsula Valdes was declared a World Heritage Site by UNESCO in 1999 due to its global significance for marine mammals conservation. It is home of important breeding populations and where different species of shorebirds migrate for nesting and resting.
# 4 – Penguin Colonies
One of the main attractions is the penguin colony. The season where they are in this area is from September to March/April. There are two sites where you can watch them: Punta Tombo and Estancia San Lorenzo in Peninsula Valdes.
Punta Tombo: This Natural Reserve is located in the south of Puerto Madryn.
San Lorenzo Reserve: This Reserve is located in Peninsula Valdes north.
The Magellanic Penguins came here to build their nests and rest of breeding. First, the males arrive late August and build their nests, and then the females arrive in early October to lay their eggs. Around March/April, they migrate with their prepared babies to Antarctica.
The best way of visiting these places is with a guided tour, to learn about the general facts and major information about the formation, fauna and flora of this stunning site.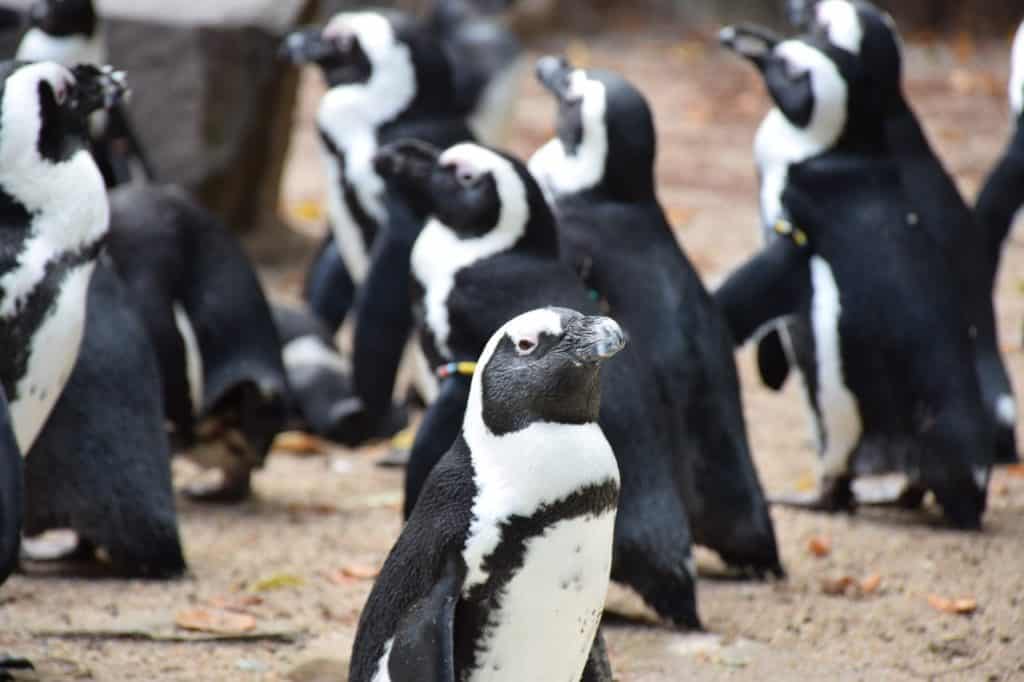 # 5 – Orcas
The orcas are another animal you can find in this place. They have developed a unique technique of hunting to adapt to local coast conditions. Only about 30 specimens of killer whales approach Punta Norte between early March and April.
However, they are extremely hard to see due to their behaviour. For this reason, if you are interested in experiencing this experience, we recommend having more than one day available and do a private tour to witness this stunning animal, but keep in mind that it is very difficult to watch them.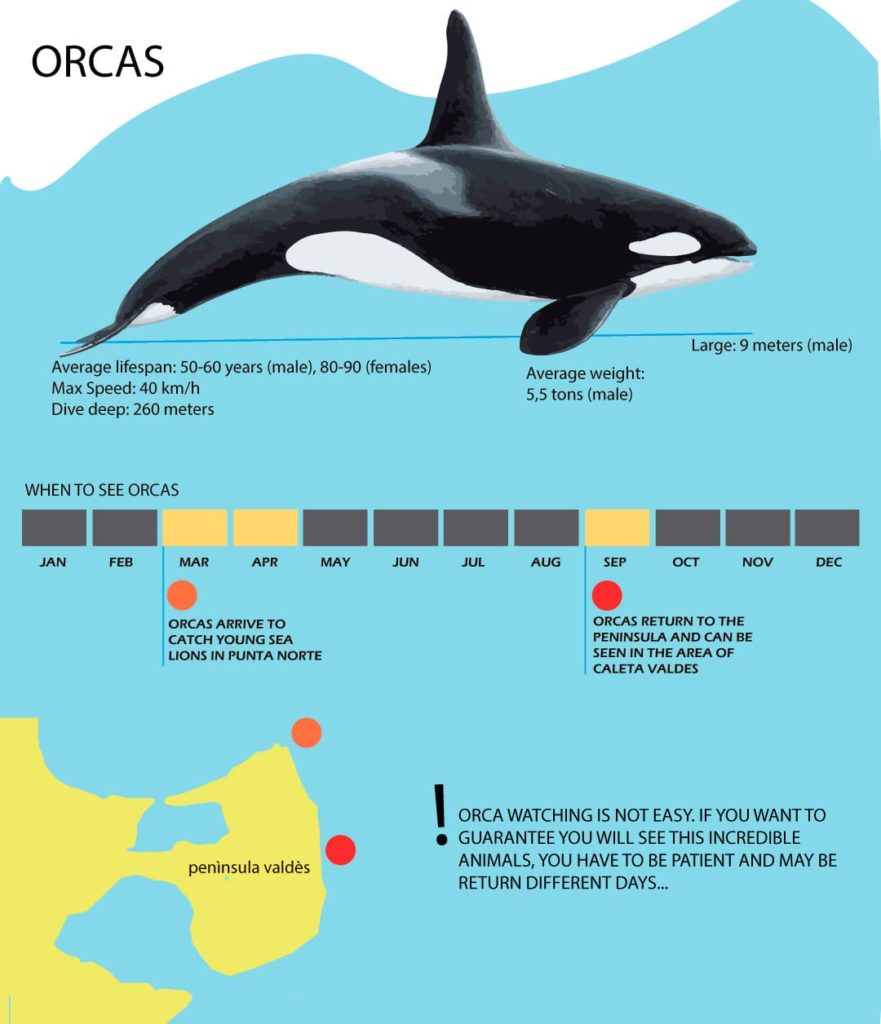 # 6 – Sea Lions
You can enjoy this animal all year, although the best season is from July to March. The most important colonies are located in Punta Norte, Puerto Piramide and Punta Loma.
They live in small colonies, formed by a male and the females with their young babies.
Length Males: 2.80 meters
Females: 2.20 meters
Young at birth: between 80 and 90 cm
Weight Males: 350 Kg
Females: 150 Kg
Young at birth: between 10 and 15 Kg
If you are interested in this animal, one very recommended excursion is the snorkel with sea lions. You will be accompanied by a professional guide and with a wetsuit or drysuit depending on the month. This animal is very curious and playful, and you will have the amazing experience of having them in their natural habitat very close to you.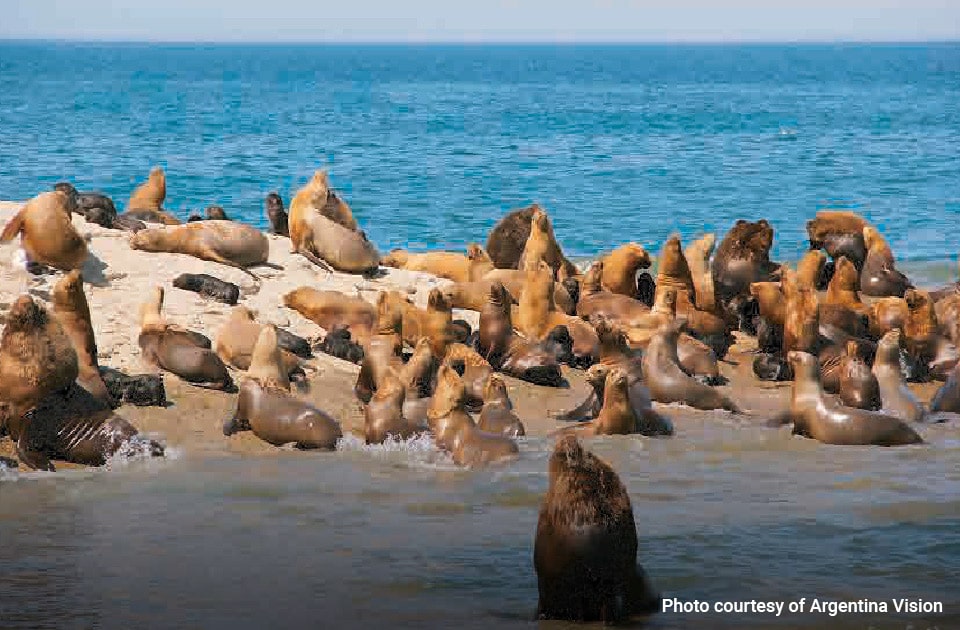 # 7 – Whales
Between May and September, the Southern Right Whales migrate to the coast of Puerto Madryn. This is one of the main attractions of this destination.
There are different types of whale watching. One of them is with boat navigation that takes you sightseeing with a professional guide to the natural habitat of this astonishing animal.
Another way is straight from the beach. In El Doradillo beach, you can watch the whales very close to the shore.
# 8 – Welsh Community: Gaiman
Near Puerto Madryn, there are other cities such as Gaiman, Rawson and Trelew, where the Welsh community built their settlements when they arrived 150 years ago to this area.
This is a very unique attraction, where you can visit this community with a guided tour, and enjoy the traditional teahouses in Gaiman. They are popular for the proper tea accompanied with their typical welsh black cake.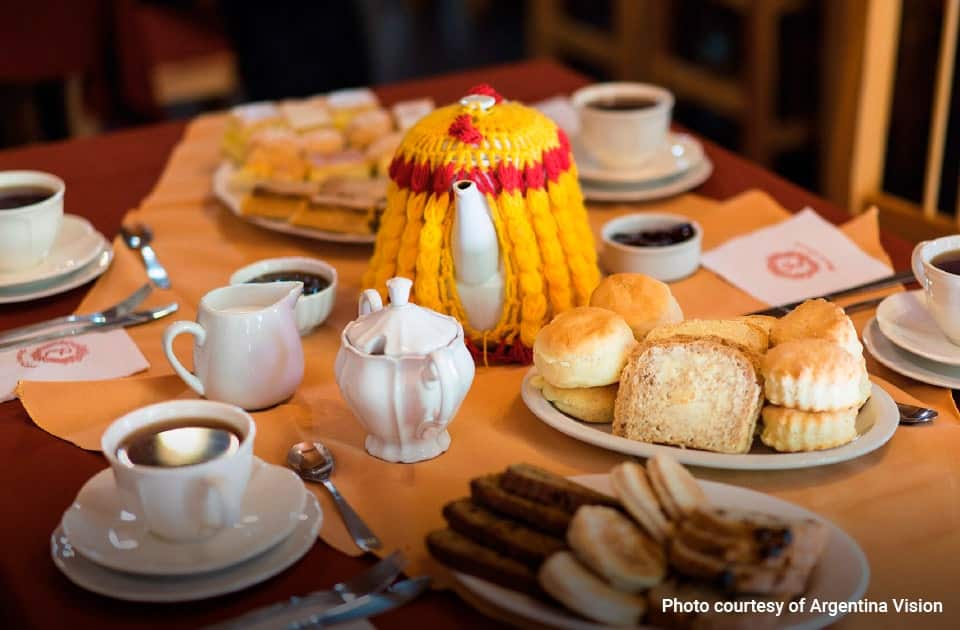 # 9 – MEF Museum: Paleontological Museum Egidio Feruglio and the Dinosaurs of Patagonia
The MEF Museum exhibition is a journey through the past. It is a center for scientific activities. It recreates past environments with fossils, replicas and original scenarios.
The collection set a precedent in technology and innovation throughout Latin America. They use a lot of technology as a tool to maintain the material classified and arranged.
In 2013, it was discovered the biggest dinosaur in the world: Patagotitan Mayorum. During a routine research on the field, unearthed the remains of a gigantic dinosaur (titanosaur). It has a length of 40 meters and 8 meters high, and about 74 tons of weight. This was the largest creature that has ever walked on earth.
You can visit this museum during the guided tour to the Welsh Community to Gaiman.
# 10 – Scuba Diving Capital of Argentina
Puerto Madryn is the main destination in Argentina for practicing scuba diving. Thanks to the amazing underwater environment and wide fauna, it is possible to enjoy diving in this place.
There are different types of diving depending on the difficulty and previous experience. In all cases, you will be accompanied by expert instructors, the necessary equipment and gear, and the basic knowledge to dive.