Bahia Bustamante: History, Lodge, What to Do, Maps (2020)
Bahia Bustamante is a small town located 250 km south of Trelew or 320 km south of Puerto Madryn (Chubut, Argentina). Although with only 20 people living in the place according to the 2010 census, Bahia Bustamante has a variety of flora and fauna that few people know, and that its inhabitants try to conserve at all costs.
The New York Times newspaper cataloged it as "Argentina's Secret (and Private) Answer to the Galapagos (Costa Rica)". Here you can find penguins, beautiful natural landscape, ranches, and above all, the chance to experience how it feels to be in the true and wild Patagonia.
If you prefer adventure, doing activities such as trekking, kayaking, boating, and visiting ranches and farms, Bahia Bustamante is the destination you should visit if you are planning a trip to Peninsula Valdes and Puerto Madryn.
📜 History of Bahia Bustamante
In 1789 the first Spanish expeditions aboard the corvettes "Discovered" and "Atrevida" encountered Bahia Bustamante on their journey, where they collected information on the flora and fauna of the entire region. But the true history of Bahia Bustamante began in 1953 with Don Lorenzo Soriano (Baeza, Jaén, Spain, 1901-1987).
The fame for the use of fixative or hair gel in Argentina prompted Don Lorenzo Soriano, owner of the Malvik gomin company, to look for regions with seaweed production to extract the colloid he needed for the manufacture of this product.
Thus, he traveled along the Argentine coasts until he found a place that was called Bahia Podrida (Rotten Bay), due to its large accumulation of rotting seaweed on the coasts and beaches. This place is what we know today as Bahia Bustamante.
From this discovery, Don Lorenzo Soriano and his children and family began the installation of buildings and promote the production of seaweed. With this, houses, school, church, commissary, warehouse, workshops, and provedurias store appeared for the town, which managed to reach approximately 500 inhabitants (vs. 20 inhabitants that there are now according to the last census).
Bahia Bustamante would grow and employ hundreds of people in the region even after the fame for the use of gum ended, as other medicinal and food uses would be found.
However, in 1982 an oil spill occurs that changes the biodiversity of the area and affects the production of seaweed in the area and changes the shape of the town forever.
Nowadays, Bahia Bustamante has become a zone for sheep ranches (which can be visited!) And a tourist destination for all people who want to experience and know a different place near Peninsula Valdes. Here they also started a small production of wines that they hope to harvest by the end of 2020.
🏡 Lodge in Bahia Bustamante
Bahia Bustamante Lodge is the only place to stay if you want to visit this destination. The main living room is where the town's general goods store used to be, and the rooms are houses of former residents (equipped for better comfort).
Staying here you can take many excursions to learn more about the flora and fauna, discover the penguins, sea lions, and sea birds of this place, and the history of Bahia Bustamante. The guides can speak English, so there will be no problems in communication.
And don't forget to try their delicious food! Bahia Bustamante has its own garden where they plant and harvest the ingredients they use in the restaurant. And let's not forget the delicious lamb you can taste here!
You will not find a fresher and more natural food than here.
If you want to see more about this place, we recommend you visit the hotels section on our website.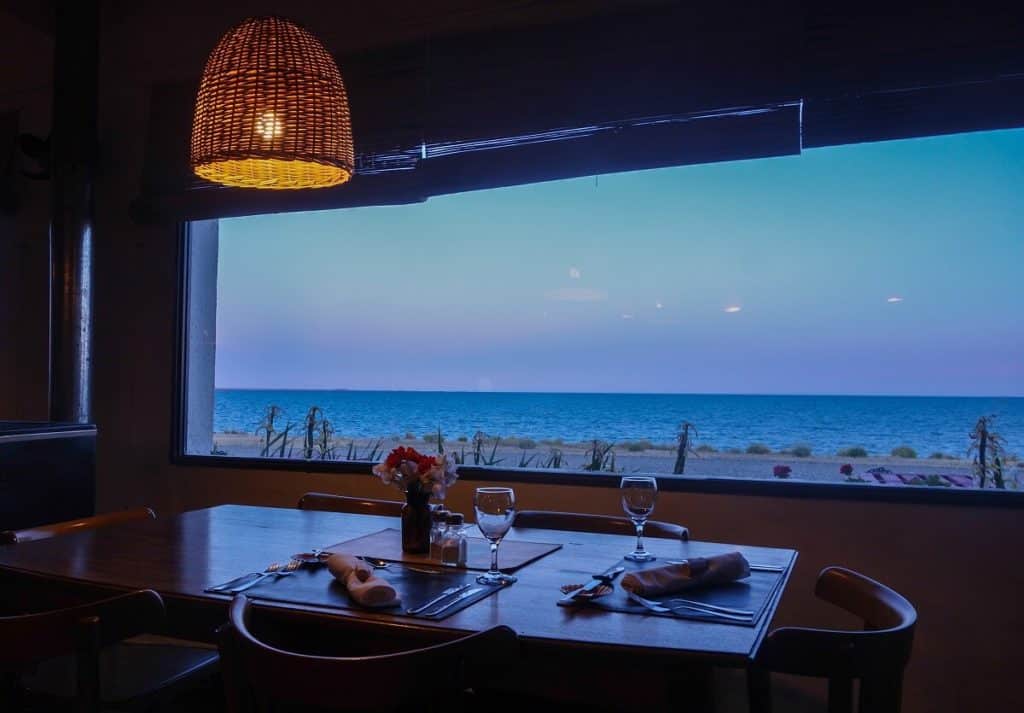 🥾 What to Do in Bahia Bustamante
Staying at Bahia Bustamante Lodge, you have at your disposal the following activities and excursions to do in the area:
Navigation to Vernacci Islands
This set of seven small islands is home to Sea Lions (there may be up to 4,000 animals in the breeding stage), Magellan Penguins (up to 100,000 animals from October to March), and many seabirds that roam the area. The best thing is that you will only be seeing these animals, since it is a distant area from the main tourist areas.
Visit the Peninsula Gravina
Near Bahia Bustamante Lodge, there is a small peninsula totally free to visit. It is an excellent place to discover pure nature while hiking, biking, or riding 4×4 trucks. In this place you will also find rock formations that generate natural pools of crystalline water, where you can swim and see the entire natural landscape of Patagonia.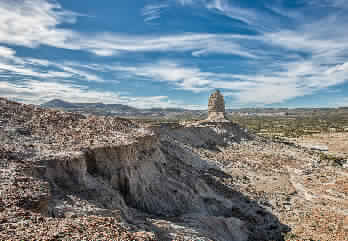 Located 30 kilometers (18 miles) from Bahia Bustamante, you will be able to meet petrified trees with more than 60 million years of "life". In addition, on the way you will see a variety of animals such as lesser rheas, guanacos, maras, and other species.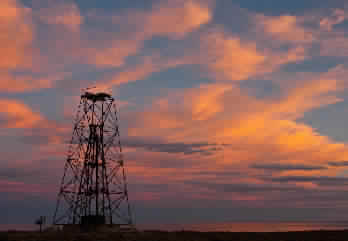 Above a 4×4 truck, you can visit Cape Aristizabal, where you can get beautiful panoramic views of the entire region. In addition, from here you can see a lot of flora and fauna and see the sea lions that walk through different areas of the cape.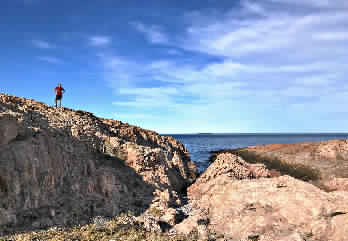 Excellent for those who like trekking! Here you can see the ocean from a rock formation of more than 15 meters formed since the Mesozoic era. You can also find some natural pools where you can swim, and this place is perfect for bird watching due to the little wind that runs thanks to the protection that the stones give.
From the Lodge, you can take a historical visit to learn much more about the history of the place, its founder, its people, and more! You can also learn about the production of algae in the area and visit its deposits.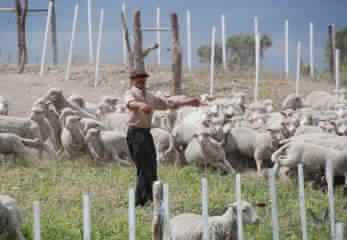 If you have a day off, you can visit a true Patagonian ranch where wool and sheep meat are produced. You can even participate in a work day, entering the pens and learning from the activities that take place there (depending on the month of the year).
🗺️ Map of Bahia Bustamante
Check the following maps of Bahia Bustamante provided by Bahia Bustamante Lodge (thanks!):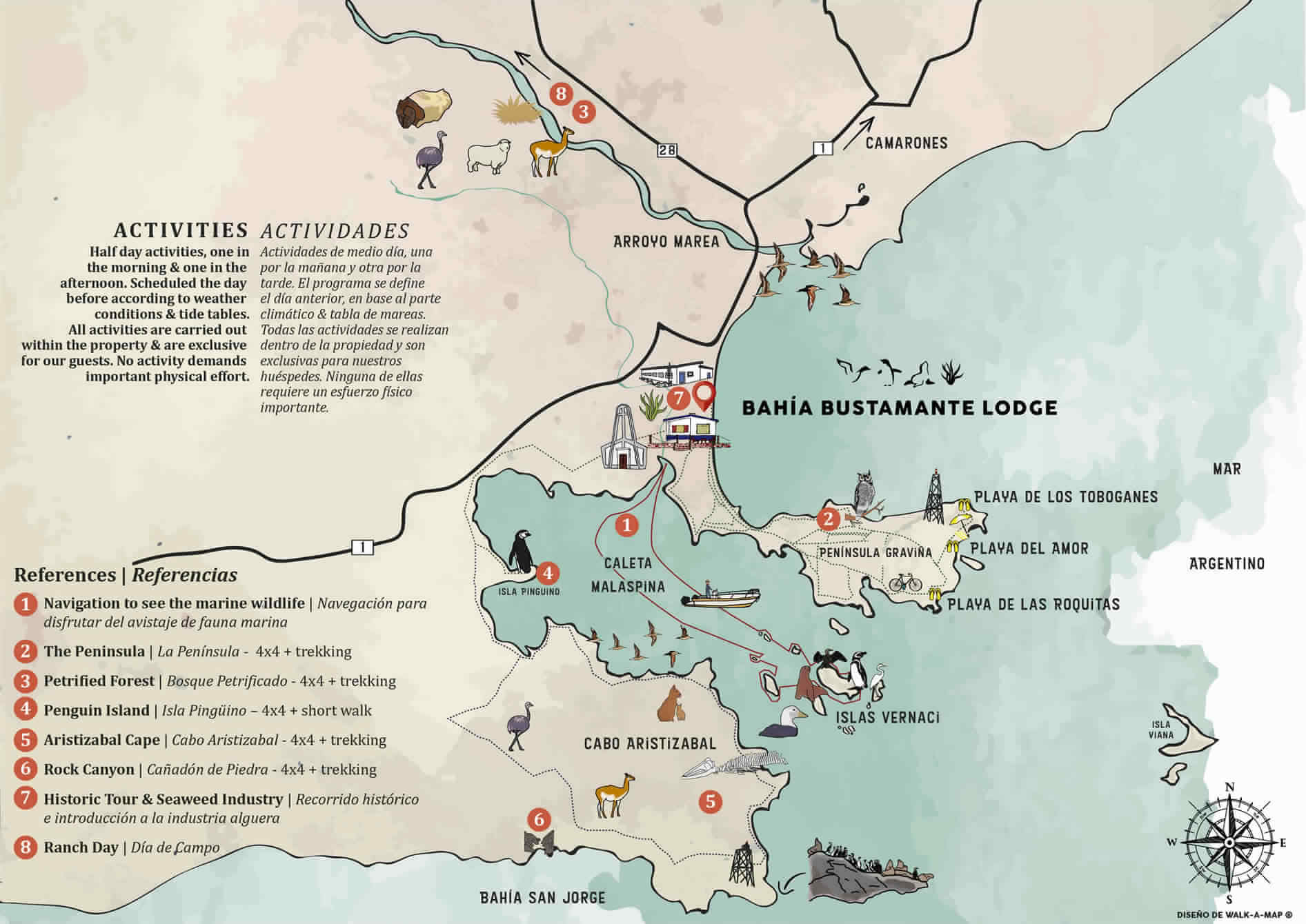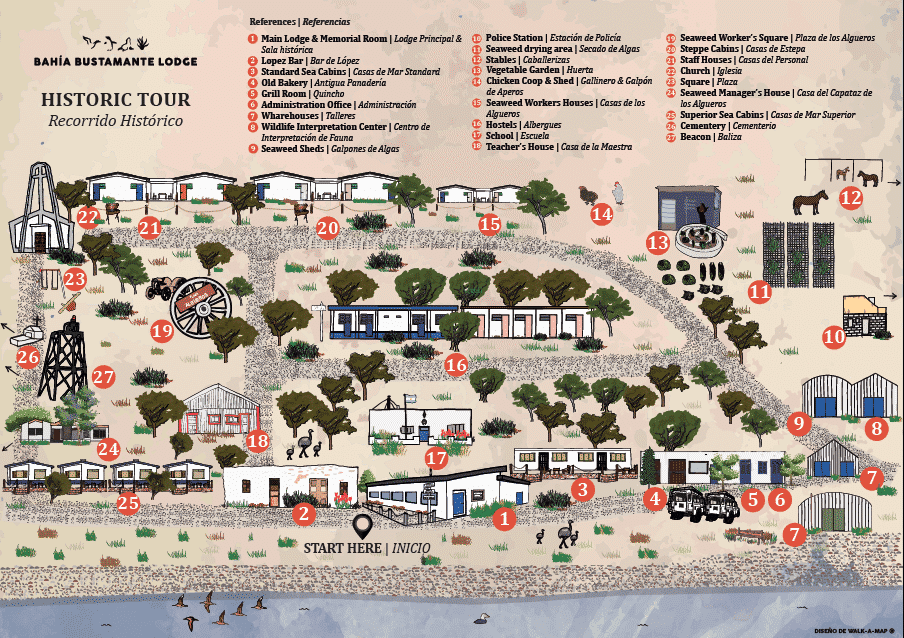 🐧 Wildlife in Bahia Bustamante
Many of the attractions that you can visit from Bahia Bustamante Lodge, are part of the Inter-jurisdictional Marine Coastal Park Southern Patagonia (Parque Interjurisdiccional Marino Costero Patagonia Austral), created on January 5, 2009 by law 26,446, and covers a total of 104,812 hectares.
A large number of animal and plant species live in this area, making the area a special place for wildlife fans. See the wildlife you can find in Bahia Bustamante: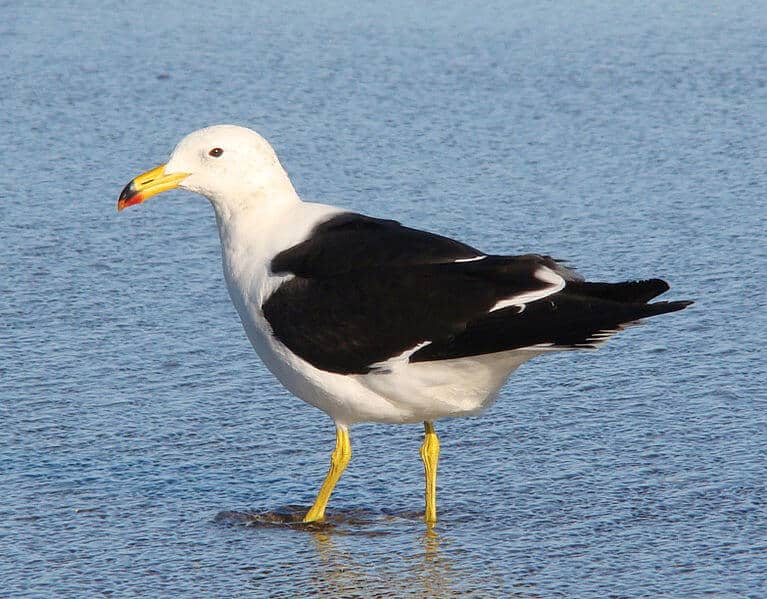 🌤️ Weather in Bahia Bustamante
Bahia Bustamante has the characteristic of being a typical place in Patagonia: dry, with little rain, and windy. Below you will have more details about the weather in here.
Temperatures are higher during last portion of spring and summer (November, December, January and February). As you can see blow, during summer, maximum temperatures are around 25-30 degrees celcius, but during winter the maximum are around 10,8 degrees.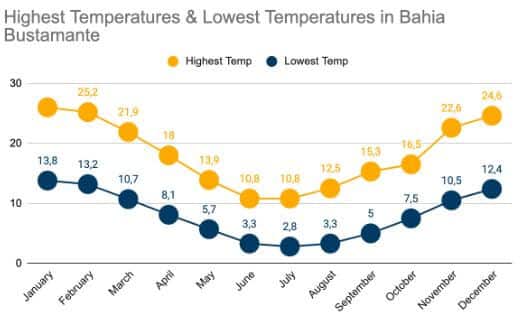 Bahia Bustamente is located in the coastline, so it receives a high influence from the ocean, and due to this humidity is usually high.
It's not an important point because the ocean is part of the highlight, but it could be important for you. Take a look to the following graphic with average percentage of humidity during the year in Bahia Bustamante.
Is Bahia Bustamante a rainy place? No, definitely not.
As many places in Patagonia, except those located close to the Andes (ie. Bariloche, San Martin de los Andes, Puerto Varas), Bahia Bustamante is a dry destination.
May is the month with more rains, with 30,1 mm. And summer season (november to january) are the months with less rains (around 10 mm).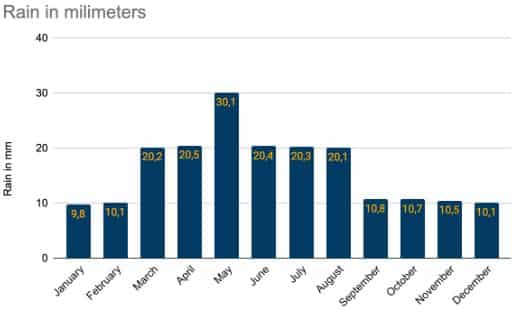 Written by Lic. Ramiro Rodriguez
20 years working in travel market, as Sales & Marketing Manager in RipioTurismo, Marketing Manager in Nuevas Ideas Travel Consulting Group. Writer and travel lover.
Want to visit Bahia Bustamante? Check this tour