Puerto Madryn is a beautiful city on the coast of Patagonia and offers you a wide range of things to see and do. It's the perfect place to plan your vacation time.
If you're planning a trip to Puerto Madryn, or even if you're already there and need help figuring out what to do, look no further!
Find the best options we have for you to do in Puerto Madryn.
Snorkeling with Sea Lions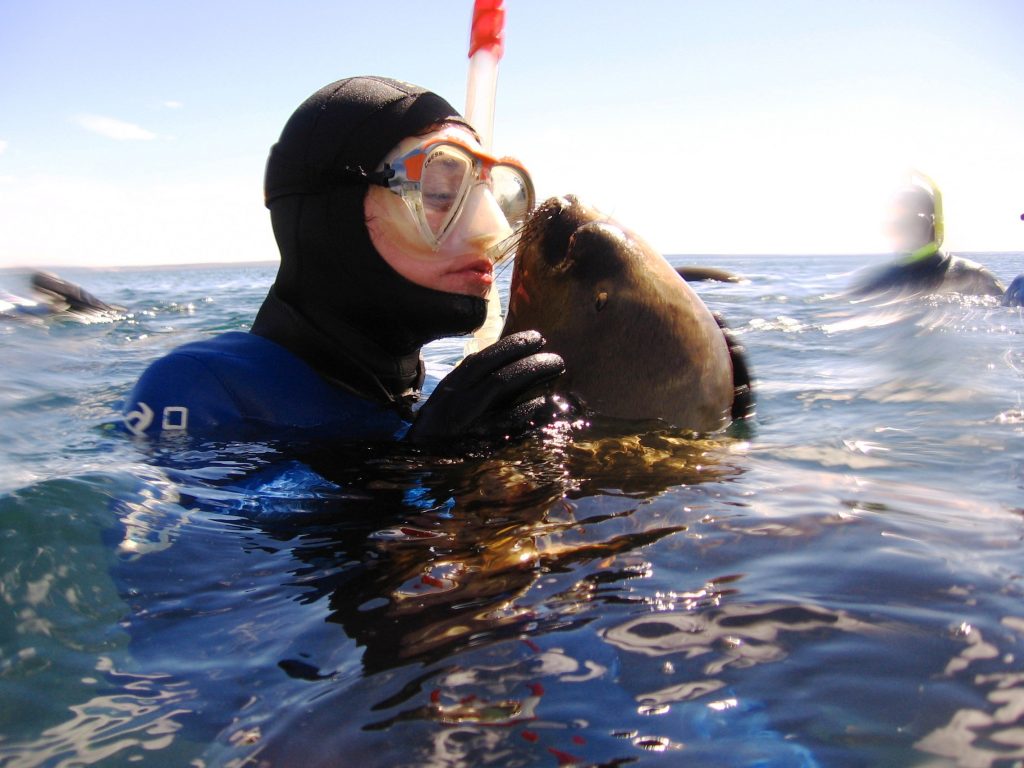 Puerto Madryn has some of the best snorkeling experiences you can find. We offer this great experience where you can enjoy a playful experience by snorkeling with sea lions. So if you like snorkeling and love animals, a natural reserve of more than 500 sea lions is waiting for you. The best part is that you don't need any previous experience. We will offer you practical training in the water to learn to maneuver freely and without difficulty among sea lions.
Scuba Diving – Underwater Baptism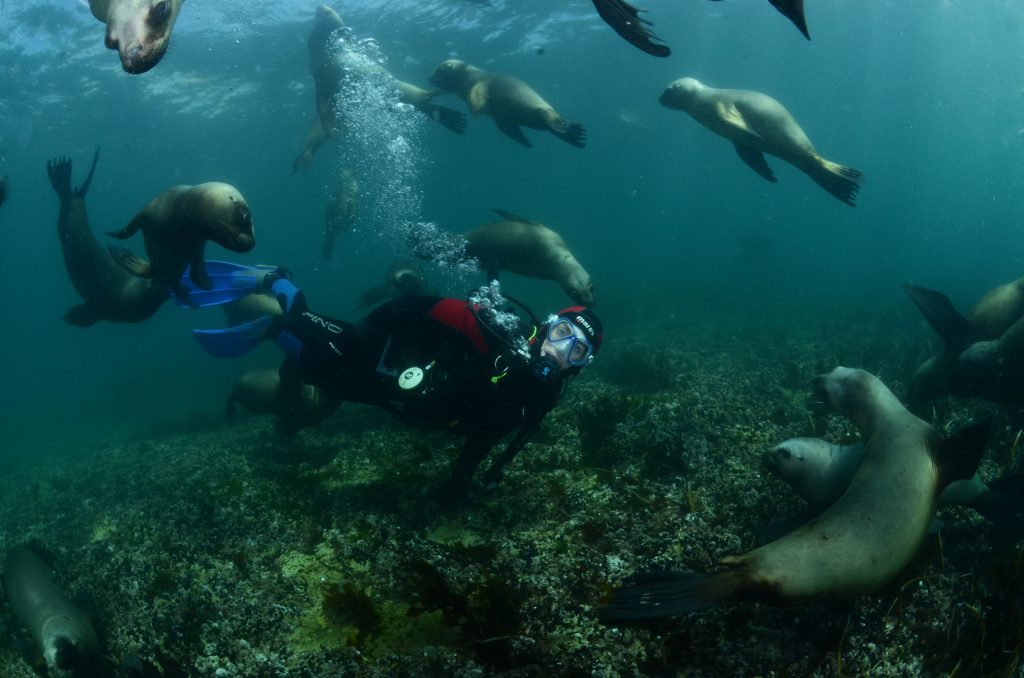 Puerto Madryn was declared the capital of diving in Argentina, so it's the perfect place to have your first experience in scuba diving. Several parks along the coast are ideal for beginners, so if you've never done it before and want to try it out, these places will give you just enough adrenaline rush without being too scary for first-timers!
An underwater baptism will allow you to discover all the marine life from the region without any previous experience.
Whale Watching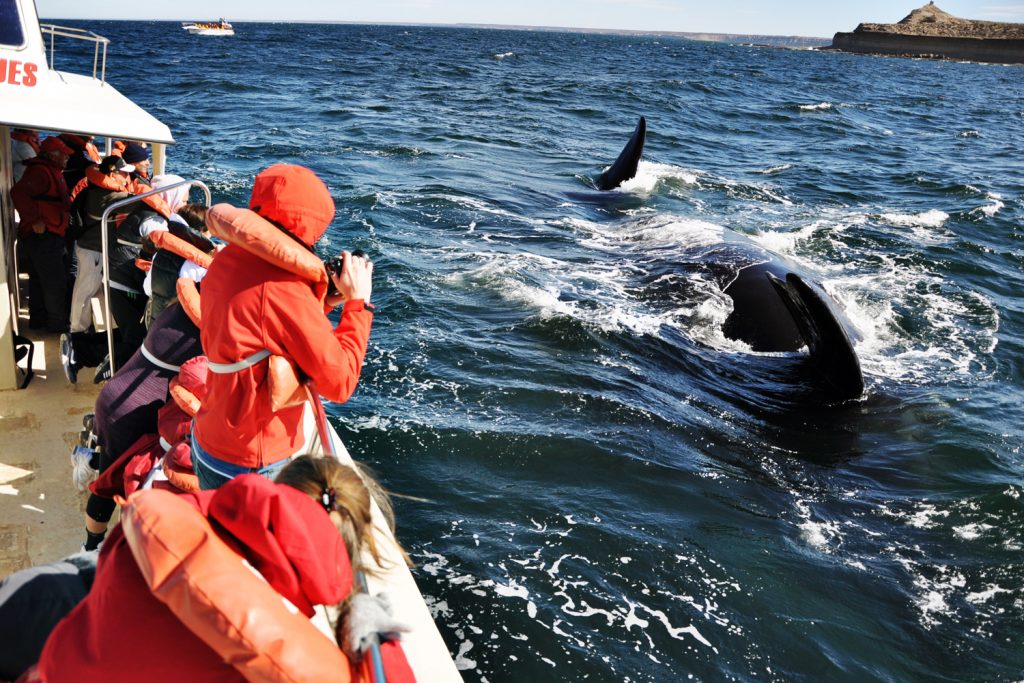 Whale watching has become extremely popular in Puerto Madryn over recent years, but why? The answer is simple: ¡whales are amazing creatures!
Puerto Madryn will give you the opportunity from June to mid-December to be amazed by this giant, the Southern Right Whale. By just walking along the coast, you'll be able to observe how these massive and graceful creatures glide through the water, and you can even hear them sing!
To enjoy this unique experience, you have two different ways to do it:
El Doradillo beach: we will drive you to this beach located on Puerto Madryn's coastline at 13 km. It is an amazing place where females will nurse their calves in their first three months of life. Allowing you to observe one of the most amazing spectacles, mothers and their babies interacting, by just standing on the shoreline (July to September).
Puerto Pirámides: this small seaside village, located 100 km from Puerto Madryn, is the only authorized place to embark on a boat to watch whales (June to Mid-December).
No matter what option you choose, make sure you bring your camera because it's going to be hard not to capture these beauties on film!
Kayaking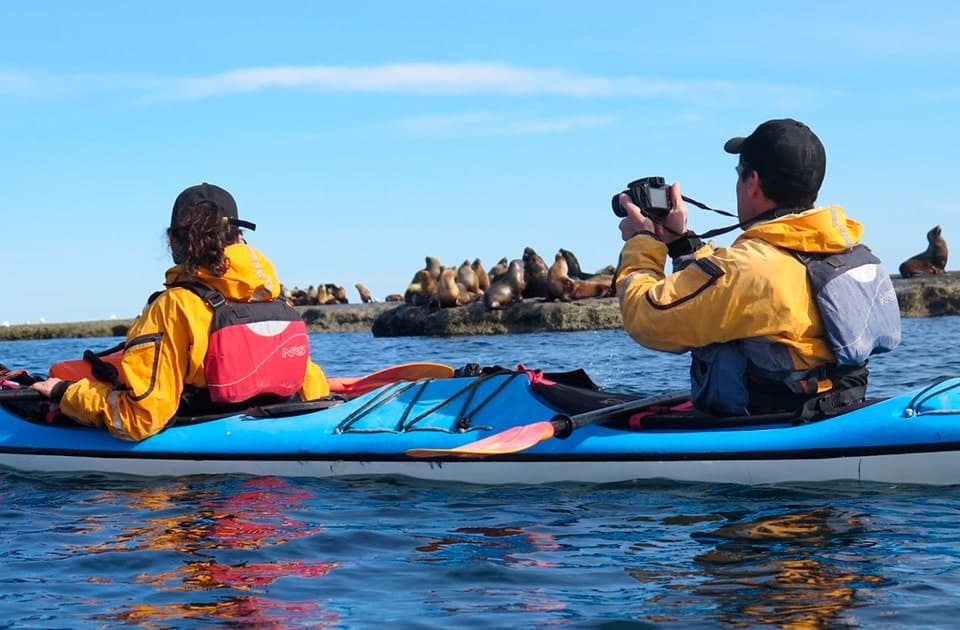 If you're more of a landlubber who prefers not to get wet (and I don't blame you), then kayaking might be more up your alley. Kayaking in Puerto Piramides is an amazing adventure that we offer with our most reliable partners. Don't worry; you don't need previous experience, as you will learn how to kayak in this unique place. But if you already have kayaking experience, this is an adventure you must do.
Along the way, we will watch southern right whales close to the coast, sea lions, different species of marine birds, caves, and high cliffs. A clear reading can be obtained of the local geological formations.
Stargazing
We invite you to take a tour together through the Patagonian sky to observe and enjoy: SINGLE SIGHT. You will learn about the stars, what they are made of, why they shine, and much more.
You'll learn about mythology, other peoples' cosmovision, and the solar system. In addition, you will learn about country life, the Tehuelches, the Welsh, and the whales. With a tourist guide with more than 20 years of experience.
The content is didactic and entertaining, with scientific rigor, but told in a clear way for both children and adults so that they begin to recognize and understand the sky as a part of nature, as a cultural heritage, and as a natural and scientific heritage.
Eco Center Pampa Azul tour
The Pampa Azul Ecocenter is a center for interpretation, research, education, and coastal-marine art.
In this eco-center, you will find an exhibition called Ocean Turning Blue. It is one of the exhibitions that seek to strengthen the existing scientific-technological, cultural, educational, and artistic outlook, adding a broader, inclusive, and sovereign approach and a strong territorial socio-environmental commitment.
It is an immersive and interactive exhibition that explores the oceanic culture, its relationship with our way of life, and its environmental impact.
Summary
Of course, these are only some of the many things you can do in Puerto Madryn. You can do a penguin tour in the reserve of Punta Tombo, take an adventure to the Cerro Avanzado, or visit the Chubut River Valley. If you are looking for more experiences, check out our many tours and excursions in Puerto Madryn and Peninsula Valdes.