FAUNA SEASON: WHEN TO GO TO PUERTO MADRYN AND PENINSULA VALDES?
One of the must-see in Patagonia, for nature lovers is the incredible Peninsula Valdes area. The gate is Puerto Madryn, the main city to arrive to the attractions in the area. You can arrive to Puerto Madryn, by flying to Trelew Airport, after a 2-hour flight from Buenos Aires.
And from Puerto Madryn, the main attraction is Peninsula Valdes, a peninsula into the Atlantic Ocean in Chubut Province, Argentina. Around 3,625 km2 (896,000 acres; 1,400 sq mi) in size, it is an important nature reserve which was listed as a World Heritage Site by UNESCO in 1999. But, what can we see in this place?
FAUNA
The coastline is inhabited by marine mammals, like sea lions, elephant seals and fur seals. Southern right whales can be found in Golfo Nuevo and Golfo San José, protected bodies of water located between the peninsula and the Patagonian mainland. These baleen whales come here between May and December, for mating and giving birth, because the water in the gulf is quieter and warmer than in the open sea. Orcas can be found off the coast, in the open sea off the peninsula. In this area, they are known to beach themselves on shore to capture sea lions and elephant seals.
The inner part of the peninsula is inhabited by rheas, guanacos and maras. A high diversity and range of birds live in the peninsula as well; at least 181 bird species, 66 of which migratory, live in the area, including the Antarctic pigeon.
In order to organize your trip, and choose best time to visit the area, take a look to sea life season:
Sea Elephants: All year long. The breeding season is between December and March.
Sea Lions: All year long. Breeding season is the same as the sea elephants' one.
Commerson's Dolphins: All year long. The best place to see them is at Rawson's port area.
Dark Dolphins: December to March.
Orcas: January to April and October to December. Note that orcas' watching is very difficult because their behavior is unpredictable.
Birds in general: All year long.
Martinetas, Choiques, Guanacos, Hares and Gray Wolves: All year long.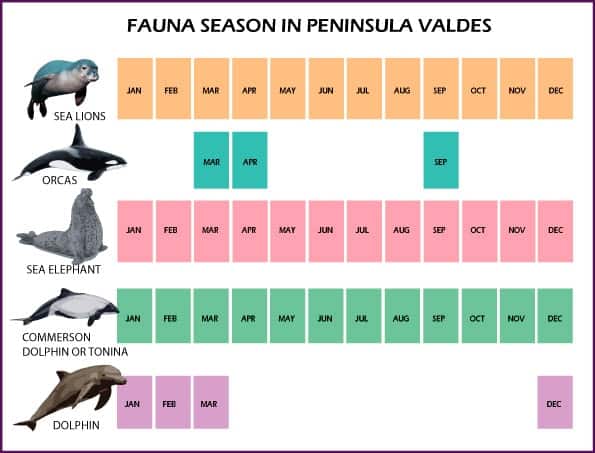 And what about penguins and whales? Well, penguins and whales are the king and the queen here, so let me give them a separated space in my article
PENGUINS: When to go?
Well, penguins are in the area from September to March/April. And can be watched in two places: Punta Tombo, located to the south of Puerto Madryn, and also in Estancia San Lorenzo in the Peninsula. Now, September and October is mating season. Then, male penguins begin to arrive to reconditioning their nests and one month after that, female penguins arrives which lay only two eggs around October. After around 35-40 days of incubation (activity shared between the male and the female), new penguins are born. Both males and females preserve the nest and feed the chicks with anchovies and squid. These chicks are covered with a dark gray down that they move in February by a plumage that will allow them to go into the sea to find their own food. Just a year later they acquire adult plumage. Take a look below, to the penguin season to enjoy these incredible animals in Patagonia: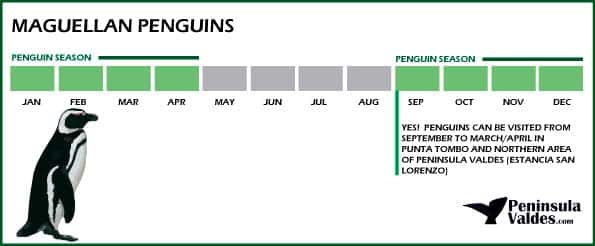 WHALES: When to go?
Well, first you need to know is that all the time during whale season, it's possible to see these incredible animals along the coastline or just minutes in a short navigation. You can see mothers with heir calves! Amazing isn't it? Well, but when you need to go there to enjoy this incredible show of nature? Well, in general season to enjoy whales in Puerto Madryn and Peninsula Valdes goes from beginning of June until middle December. It's the large photo, but there are different periods during this season that are important. Why? Because sometimes the whales can be seen better from Puerto Madryn and beaches located close to the city, and sometimes it`s better to go to the Penisula Valdes. First period in the season, it's June, July, August and September… the Right South Whale prefer to stay in the southern bay, called Golfo Nuevo, and it`s the best season to watch the whales from Puerto Madryn and beaches like Doradillo, where mother whale and her calf will delight you just few meters from the coastline. Yes… and it`s amazing. Finally, from last days of Setember to middle December, the whale prefer to stay in the north gulf, and can be seen better from the Peninsula Valdes.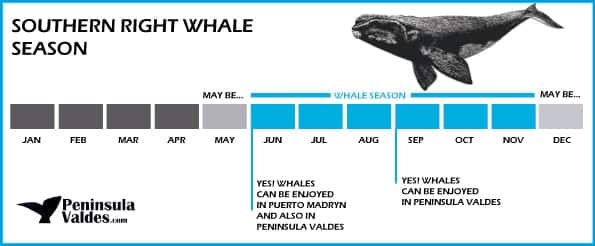 Source: RipioTurismo