WEATHER IN PUERTO MADRYN AND PENINSULA VALDES AREA
Let me help you to choose best time to enjoy Puerto Madryn and Peninsula Valdes area. Of course, weather is not the only variable to check when you organize your trip to this area. More important is the sealife and other fauna season, and for that, there is an article you can check Peninsula Valdes and incredible sealife in Patagonia
But weather is important, in order to work in what to pack, and prepare your suitcase for example. Take a look to the following graphic and important information:
TEMPERATURES IN PUERTO MADRYN AND PENINSULA VALDES
You will find the highest tempratures during summer season, it`s November, December, January and February, and of course lower during winter, with minimum temperatures of 2-3 degrees during July and August. Of course, it`s Patagonia, but the ocean is important to avoid extreme temperatures in summer and winter, for that reason average temperatures do not go over 26-27 degrees, and neither below 2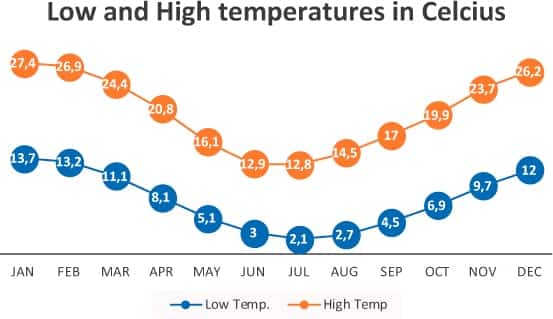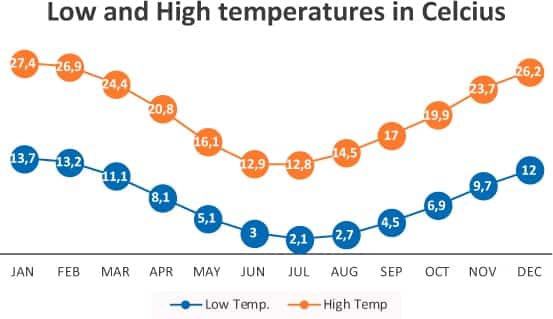 HUMIDITY
Of course, Puerto Madryn a coastline city will receive a high influence from the ocean, and humidity is usually high. It`s not an important point for me, but could be important for you, so take a look to the following graphic with average percentage of humidity during the year in Puerto Maryn and Peninsula Valdes: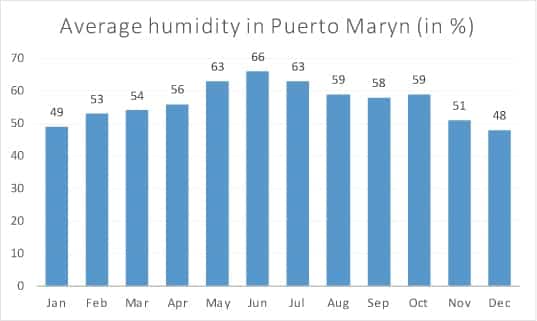 RAINFALL
And what about rainfall in Puerto Madryn? It`s a rainy place? No, definitely not, as many places in Patagonia, except those located close to the Andes with a high level of rains, Puerto Madryn and Peninsula Valdes are dry places with low level of rainy days. May is the month with more rains, with 23.8mm, and of course summer season (november to January) are the months with less rains (around 10 mm).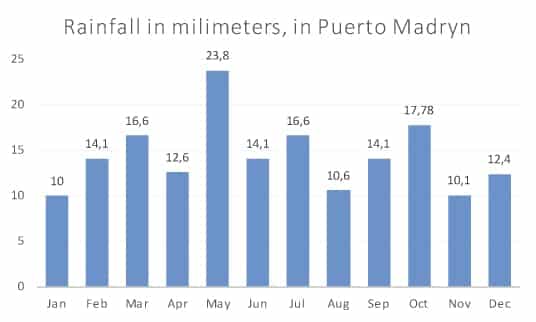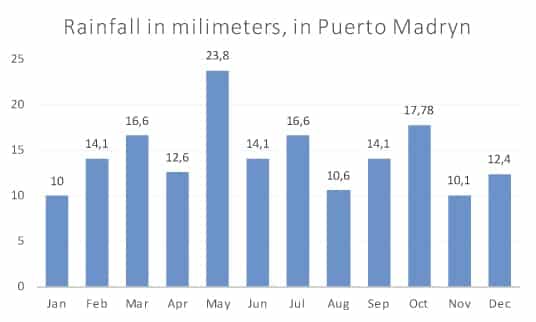 DAYLIGHT AND SUNSHINE
An important point is the number of hours with daylight. In Patagonia, summer season offers large days, with many hours to enjoy activities. So, november, december, january and february are the months with more daylight. Take a look to the following graphic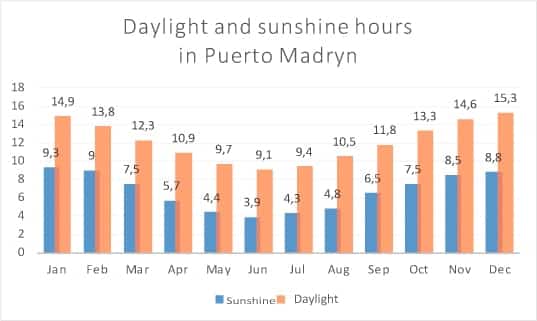 SEA TEMPERATURES
Finally, if you`re interested in diving, fishing, or some other sea activity, the temperature of the sea can be important for you. Take a look to the information below with average sea temperatures in the area of Puerto Madryn and Peninsula Valdes.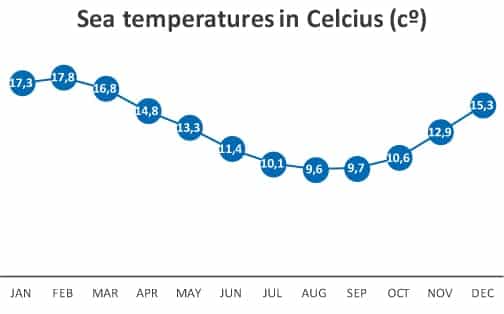 Lic. Ramiro Rodriguez
info@ripioturismo.com
Source: RipioTurismo